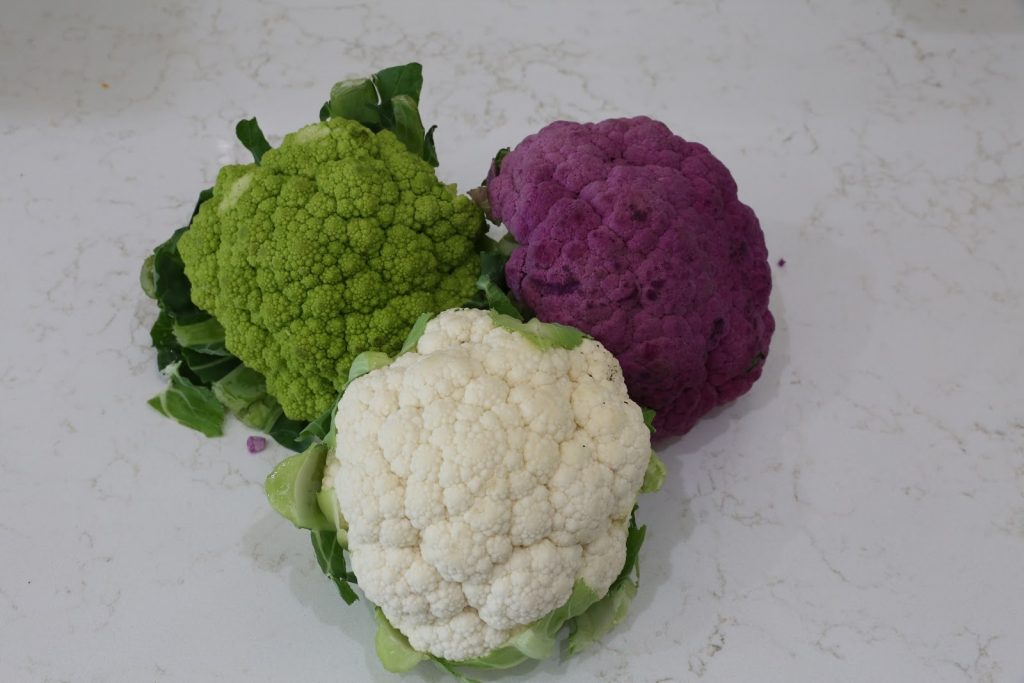 Have you mastered your unlimited foods? They're one of my big keys to taming the cravings and reducing the appetite.
Kirin makes a mean roasted cauliflower, but we always have a problem with it, there is never enough! I swear the last batch she made was with 3 whole cauliflowers in these spectacular colors. Me and the kids barely left her any.
The colorful versions are more than just eye-candy. The purple gives you rich anthocyanins and the green is higher in indoles like broccoli. If you want a really colorful dish, add some sliced red bell peppers.
You can consider the lemon juice optional, especially with white cauliflower. It does not affect the flavor but it does help keep the colors rich and vibrant.
Here's how I made it:
3 – organic cauliflower heads, washed and broken up into bite-sized florets. Bonus for colors.

2 tsp High-quality Extra Virgin Olive Oil

1/2 lemon, juiced

1-2 tsp powdered sea salt. Use any good iodine-free sea salt. Put 2 cups in a blender, blend on high for 1.5 minutes. Store for future use.
Directions:
Preheat the oven to 400 degrees Fahrenheit.

Line baking sheets with parchment paper. Usually 1 sheet per head of cauliflower.

Place cauliflower and olive oil (and optional lemon juice) in large steel mixing bowl, mix well.

Sprinkle in salt while continuing to mix well.

Spread out thin on sheets.

Bake for 25-35 minutes or until they just start to brown.

Let cool for 5 minutes.
Serves:
Don't ask me. I'd say 1. You could probably serve 4-6 normal people
To Your Health,
Dr. C