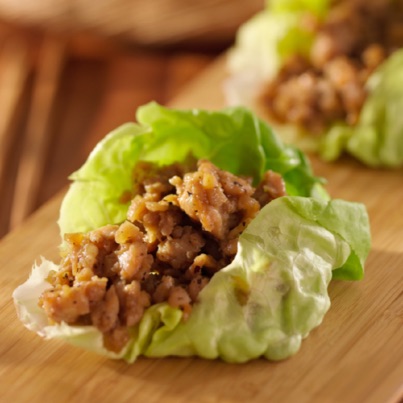 These fresh and delicious lettuce wraps are quick, easy and Dr. C approved for the Adrenal Reset Diet! Get this and many more of Dr. C's favorite recipes by downloading the cookbook on the bottom of the "START HERE" page!
Ingredients:

1 lb. ground turkey

2 Tbsp. olive oil

1 small onion, chopped

1/2 teaspoon of sea salt (non-iodized salt, Diamond, or Morton's brands)

1/4 teaspoon of black pepper

1/2 teaspoon of garlic powder

1/4 teaspoon of chili powder

Red pepper chili flakes to taste

One 15 ounce can of rinsed, unsalted black beans

Handful of chopped cilantro

10-12 chilled lettuce cups, romaine or iceberg

Chopped tomatoes, for garnish

Chopped green onion, for garnish

Lime wedges for garnish
Directions:
1. Pour olive oil in pan on medium heat. Once heated, add turkey meat and chopped onion. Season with salt, pepper, garlic, chili powder and pepper flakes (if desired).
2. Sauté until turkey meat is fully cooked. Add cilantro and beans to turkey mixture. Remove from heat. Fill prepared lettuce cups with turkey and bean mixture. Garnish with tomato, green onion and lime. Enjoy!
Makes about 12 lettuce cup tacos