I recently heard of an interesting study. In it, research suggested that beets might be dangerous for those with thyroid disease.
Once I heard it, I knew I had to find out whether or not this was true. So, today, let's dig in: are beets safe for your thyroid?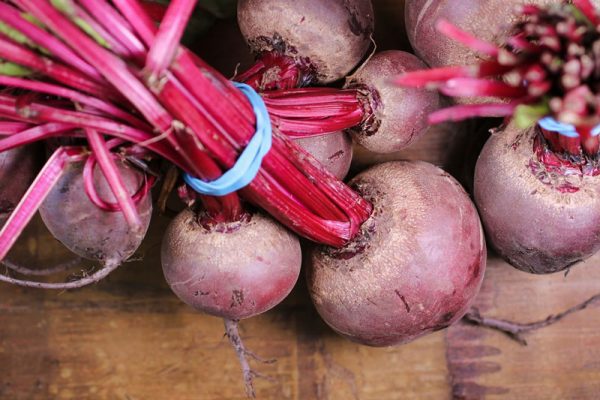 Big Picture: Beets & Your Thyroid
The short answer to all of this is "not likely."
But, I want to dig a bit deeper into it for you. That way, you can learn how researchers came to this conclusion, and why you can still enjoy beets as part of your diet.
The closest thing to an actual risk out there came from one study. This was an isolated, unpublished study, which centered around people who had a history of hormonally-sensitive breast cancer.

It went on to suggest that those same people who consumed unusually high amounts of carrot or beet juice may be in trouble.
In fact, they may have a higher rate for developing thyroid nodules (Click Here: What It Means To Have Thyroid Nodules).
However, as I mentioned, this study was isolated, not reproduced, and it also suggested that foods like these were protective at lowe dosages.
Due to the small number of patients involved, it was more likely that this was a matter of random chance.
Beets: The Full Story
So, what's the situation with beets? Let me start with something of an education.
Beets have something in them called "betaine." Betaine is an amino acid, and it is an important nutrient that provides essential benefits to your body.
This could be something like fighting heart disease, or promoting optimal protein synthesis within the body. It can all be done by simply enjoying more beets in your life.
An additional benefit of consuming beets is that they support methylation, which is critical to the overall body as it regulates hormones and provides detoxification.
MTHFR abnormalities are common in nearly 100 percent of autoimmune thyroid disease patients. The appropriate dosage of beets is 1/2 cup in a cooked or juiced form and servings should be 2/3 times per week.
Key Insight: One of my favorite rules when it comes to eating is that the more a certain food can stain your tablecloth or your shirt, the better it is for you! Beets are a great example of that rule and they are really great when it comes to your overall health.
Nitrates and Nitrites
All this talk about beets brings us to a larger topic of discussion for today: nitrates and nitrites.
They may sound similar, and while they are often confused with one another, there is a lot of data suggesting that high amounts of nitrites can correlate with certain risks.
Here's where you can find nitrates:
Vegetables

Lettuce

Spinach

Cabbage

Beet Root

Rocket

Radish

Drinking Water
On the other hand, you can find nitrites in:
Processed Meats

Animal Food Products
While some out there may assume that nitrates are bad, the list above is anything but. In fact, dietary nitrates may have special benefits when it comes to things like:
Antioxidants

Nitrosamine Formation

Blood Circulation

Vascular Health

Blood Pressure

Athletic Performance
Are Nitrates Active In Beets?
I'm often asked if nitrates are an active ingredient in beets. So, is that true?
Well, no, beets are the active ingredient in beets! I believe that, in cases like these, it only creates confusion when one tries to equate the effects of whole foods to one constituent.
The same goes for a food like bacon. Just like beets, bacon is the active ingredient in bacon, and not much else. That goes for saturated fat, salt, or nitrites – it's just bacon.
Most epidemiologic studies that I have seen are clear. Somewhere under 20-30 grams of bacon, per day, is harmless for most risk. Going above that, though, does raise the risk of stomach and esophageal cancer.
Nitrates, Nitrites, and Thyroid Function
I recently came across a meta-analysis done to understand the effects of nitrates and nitrites on the thyroid. Here is what they found (and what I found most interesting):
"Animal studies have mainly confirmed the anti-thyroid effects of nitrate/nitrite, especially in high-extreme doses, a hypothesis not yet confirmed in human studies.
Our meta-analysis of epidemiological surveys showed no significant association between nitrate exposure and the risk of thyroid cancer, hyper- and hypothyroidism and only a significant association was found between higher exposures to nitrite and the risk of thyroid cancer"
What does this all mean for you? Like I said before, in terms of active ingredients, smaller amounts are not harmful because the food itself is not defined by just one piece of the puzzle.
Instead, it's a larger picture that we need to paint for our whole health. It also means that dietary nitrates may come with some serious health benefits, but it does not mean that we need to engage with them in large amounts.
Nitrates, Beets, and Your Health
So, the big takeaway message here is that vegetables and foods which are high in nitrates likely come with health benefits. There is no evidence showing that they are harmful for those with thyroid disease. In fact, it's more likely the opposite!
That said, many lines of evidence have shown that smoked and processed meats, when consumed in amounts above 30 grams per day, can raise the risk of several cancers.
In fact, thyroid cancer may be one which is more probable for those that consume high amounts of dietary nitrites in general. So, it is all about keeping your consumption low.
Bottom Line: Basically, enjoy your beets but go easy on the bacon!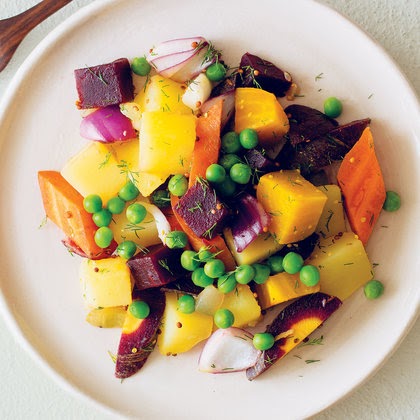 Before we go today, I want to share with you a recipe for beets to help you start enjoying them with confidence.
It's one of my absolute favorites, and I think it's going to become a weeknight staple for you and your family.
Here's my recipe for Cold Potato, Beet, Carrot, and Pea Salad with Dill!
Ingredients:
1 cup coarsely chopped red onion

2 medium beets, tops trimmed

3 medium potatoes

2 medium carrots, cut into ½ inch pieces

½ cup chopped dill pickles

¼ cup chopped fresh dill

¼ cup macadamia nut oil

¼ cup red wine vinegar

2 tsp Prepared whole-grain mustard

½ tsp coarse salt

¼ tsp freshly ground black pepper

½ cup frozen petite green peas, thawed
Directions:
Halve beets and place in a vegetable steamer set over boiling water. Steam, covered, until tender when pierced with the tip of a knife, 20 to 35 minutes depending on size. Let cool. Use a paring knife to pull off loosened skins. Cut beets into ½ inch cubes.

Meanwhile, place potatoes in a saucepan and cover with water. Bring to a boil and cook covered, until almost tender, about 15 minutes. Add carrots and cook until potatoes are tender and carrots are crisp-tender, about 5 minutes more. Drain and let cool. With a paring knife, peel loosened skins from potatoes and cut potatoes into ½ inch cubes.

In a large salad bowl, combine beets, potatoes, carrots, pickles, onion and half the dill. In a small bowl, whisk together oil, vinegar, mustard, salt and pepper until blended. Pour over vegetables and gently fold to combine. Serve at room temperature or chilled. Just before serving, spoon peas over the top of the salad and sprinkle with remaining half of the dill.

Enjoy!
Are You Concerned About Your Thyroid?
Your thyroid is essential to your health. That's why it matters to get an accurate read on how its performing, and how it completes the puzzle of your overall health.
Take the Thyroid Quiz today (Click Here: Discover Your Optimal Health) to learn more. I hope it will help you.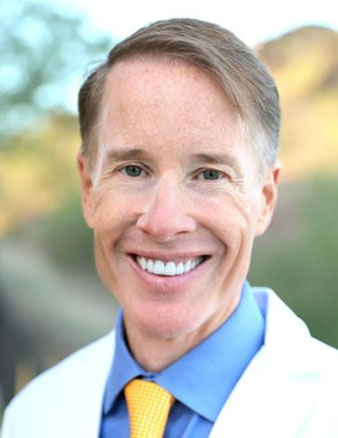 P.S. Whenever you are ready, here is how I can help you now:
1. Schedule a Thyroid Second Opinion with me, Dr. C, Click Here for Details
2. Download and use my Favorite Recipes Cookbook Here
3. Check out my podcast Medical Myths, Legends, and Fairytales Here
Dr. Alan Glen Christianson (Dr. C) is a Naturopathic Endocrinologist and the author of The NY Times bestselling Adrenal Reset Diet, The Metabolism Reset Diet and The Thyroid Reset Diet.
Dr. C's gift for figuring out what really works has helped hundreds of thousands of people reverse thyroid disease, lose weight, diabetes, and regain energy. Learn more about the surprising story that started his quest.