Have you ever had a day that was so bad you just wanted to eat dessert for dinner?
Let's just say it has been the craziest week here….ever. Thankfully it has been equal parts wonderful – and awful (better than an only awful week!). A true rollercoaster of a week.
It's been the kind of week that makes you want to eat dessert for dinner.
Lucky for you, I have a solution that will help you stay true to your health goals while you satisfy your need for sweets whenever you have this kind of week.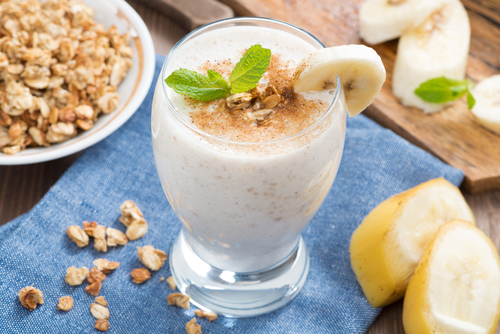 Banana Oatmeal Cinnamon Shake (for dinner)
(1 serving)
Ingredients:
2 scoops of Dr. Christianson's Daily Reset Shake

2 cups of water

½ cup of unsweetened coconut milk or almond milk (whichever you prefer)

¼ Green banana

¼ cup of raw or cooked oatmeal
* Cinnamon (Try a "real" cinnamon, like Saigon cinnamon) – to taste
* Optional Ginger – freshly zested (a little goes a long way) – to taste
Directions:
Blend and serve.
Sprinkle a little cinnamon, and a few oats on top to make it look prettier.
Enjoy!
Kirin Christianson
If you are following the Adrenal Reset Diet guidelines, you want most of your carbs at night. Even though Dr. Christianson's shake is the only one on the market loaded with resistant starch you can add a few carbs to your shake for dinner. To reset your adrenals and cortisol rhythm, you would NOT add these additional carbs to Dr. Christianson's Daily Reset Shake for a breakfast or lunch serving.
If you are using another pea-based protein shake with 23+ grams of protein, you will need to add more sources of resistant starch so you have enough to reset your adrenals.