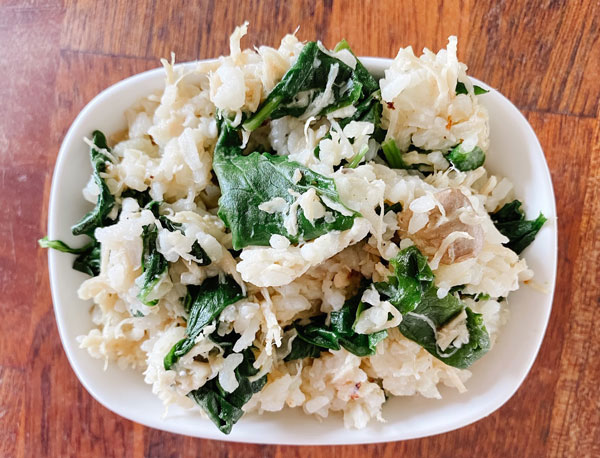 4 servings
Prep time: 5-10 minutes
Total time: 15 minutes
Ingredients:
2 – 12.5 oz cans chicken, (or 5 – 5 oz cans of chicken), drained

½ onion, (or ½ cup of frozen chopped onions)

½ container of fresh mushrooms, sliced, (or ¼ cup of freeze-dried mushrooms)

3 cups fresh spinach, chopped (or 1 ½ cups of frozen spinach)

3 cups cooked rice

2 Tbl flour

2 cups broth, or stock, (or 2 Tbl Better than Bouillon stirred into 2 cups water)

Oil spray

Non-iodized salt (Diamond or Morton's brands if possible)

Pepper

Optional water
Directions:
Lightly spray skillet with oil.
On medium-high heat, saute onions until translucent – about 2-3 minutes, stirring a few times.
Add mushrooms. Cook 1-2 minutes, stirring frequently.
Add chicken, rice, and broth, and flour. Stir together until it's a gravy-like consistency. Cook for 2-3 minutes, or until everything is warm.
Add a little water if you need to thin it out.
Once it's the consistency you like, add spinach and cover. Cook until the spinach is wilted – about 3 minutes.
Top with salt and pepper.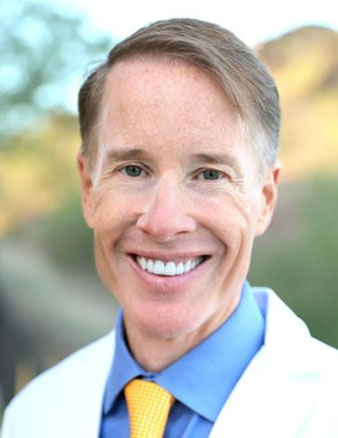 P.S. Whenever you are ready, here is how I can help you now:
1. Schedule a Thyroid Second Opinion with me, Dr. C, Click Here for Details
2. Download and use my Favorite Recipes Cookbook Here
3. Check out my podcast Medical Myths, Legends, and Fairytales Here
Dr. Alan Glen Christianson (Dr. C) is a Naturopathic Endocrinologist and the author of The NY Times bestselling Adrenal Reset Diet, The Metabolism Reset Diet and The Thyroid Reset Diet.
Dr. C's gift for figuring out what really works has helped hundreds of thousands of people reverse thyroid disease, lose weight, diabetes, and regain energy. Learn more about the surprising story that started his quest.