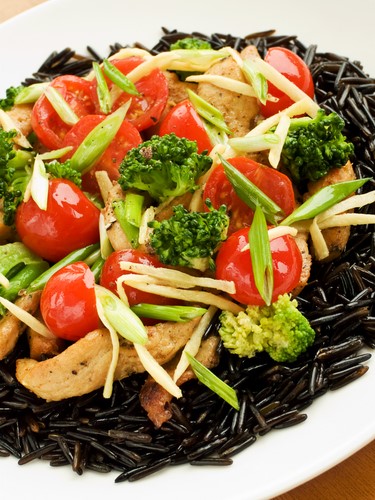 If you're looking for a good meal that is easy to prep this is the one for you! You can put these in separate BPA free glass containers and be good to go for healthy meals all week. ? Enjoy!
Ingredients
2 tablespoons olive oil

8 oz organic chicken sausage (cut into small rounds) or you can do shredded chicken as well.

2 bunches of chopped broccolini

1 cup cherry tomatoes

Sea salt and pepper for taste

2 cloves garlic, minced

1 cup forbidden rice

2 1/2 cups organic chicken broth
Directions
Heat oil in a skillet over medium-high heat.

Add the tomatoes and saute for a few minutes, then add the sausage until evenly browned on both sides which should only take a few minutes.

Add the Broccolini, season with salt and pepper, and sauté until vibrant green and almost tender which should be about 5 minutes.

Add the garlic and rice and sauté until fragrant, about 1 minute.

Add the chicken broth and bring the mixture to a boil. Cover, reduce to a simmer and cook until the brown rice until the liquid is absorbed and according to your package.

Optional: Add ¼ cup good quality nutritional yeast to add a cheesy flavor.