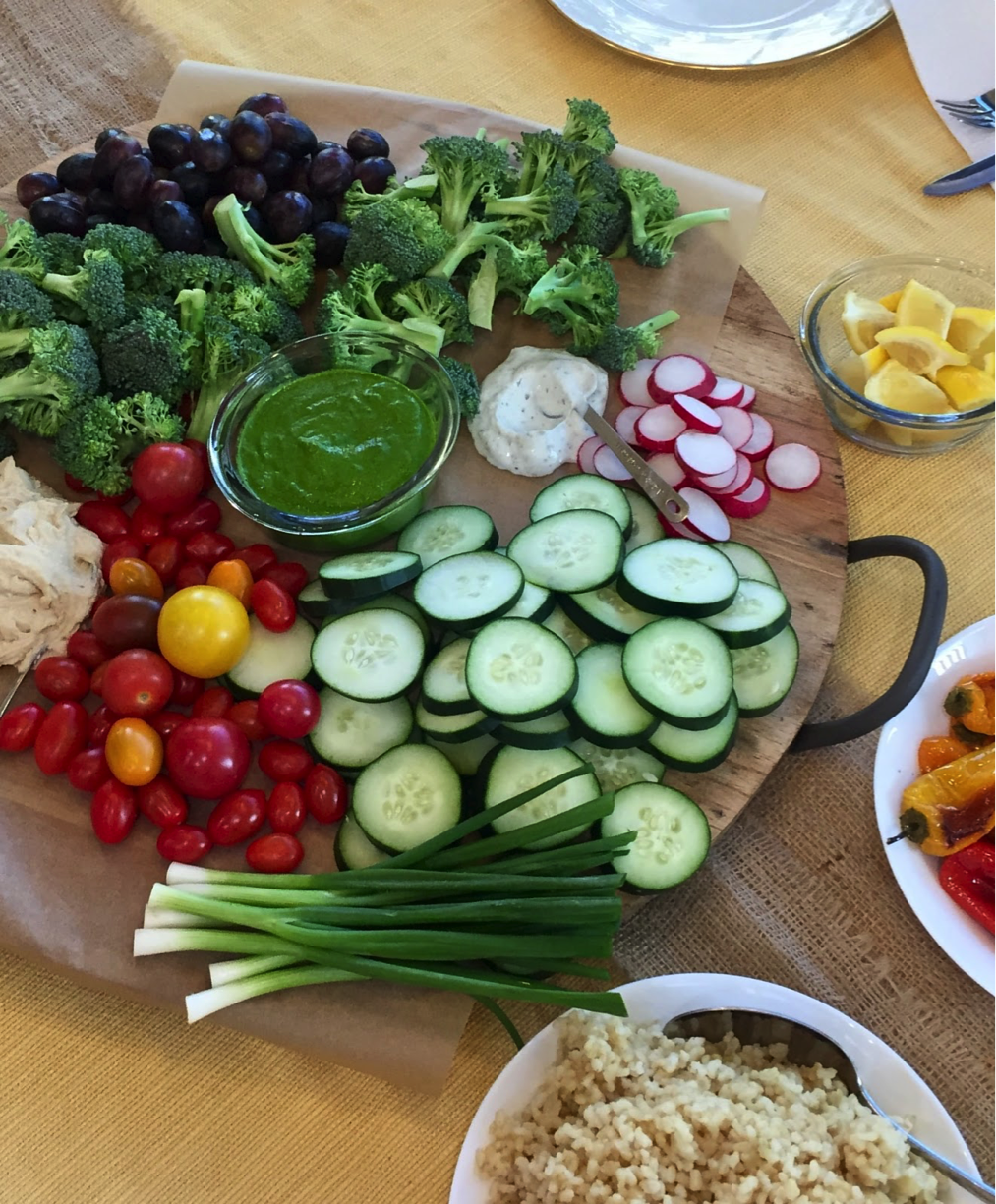 Did you know the average American consumes only 3 or 4 of the 6-9 daily recommended servings of veggies needed a day?  An easy way to make sure everyone eats more vegetables is to make a charcuterie and crudite board.  This is great for an appetizer or an entree (depending on what you put on there).  You can make one for small family dinners, or large parties and get-togethers.
At our last family gathering, we served a variety of healthy foods and hands down the most popular item was the charcuterie and crudite board.  * Instead of cheese, we served spicy mustard and a creamy dip made with high protein and 0% fat yogurt (Siggi's) and mixed it with herbs.  The kids loved it (and they will never guess it has 28 grams of protein per serving)!  To read more on Dr. Christianson's thoughts on dairy, read this:
http://drchristianson.com/are-dairy-foods-good-for-you/
A few days later we had a friend over for dinner and in addition to the main entrees of chicken, rice, and roasted peppers, we made a crudite board.
Here are some things you can put on your boards:
Protein:
Smoked salmon

Cooked and chilled shrimp

Chicken

Turkey Breast

Lean ham

High protein yogurt dip (mentioned above)
Carbs:
Strawberries

Blueberries

Blackberries

Hummus

Beans
Unlimited Foods:
Carrots

Tomatoes

Sweet peppers

Cucumber

Celery

Broccoli

Green onions

Lemon/lime slices

Cauliflower

Jicama

Zucchini

Radish
Healthy Fats:
Almonds

Guacamole

Sunflower seeds

Walnuts

Pumpkin seeds

Olives

Macadamia nuts
You can use other ingredients as well, but these are all healthy, easy to find, and mixed together will create a beautiful display that will make eating veggies fun – for everyone.
Cheers to your good health!
Kirin Christianson
*I found both of the round charcuterie boards recently at HomeGoods.