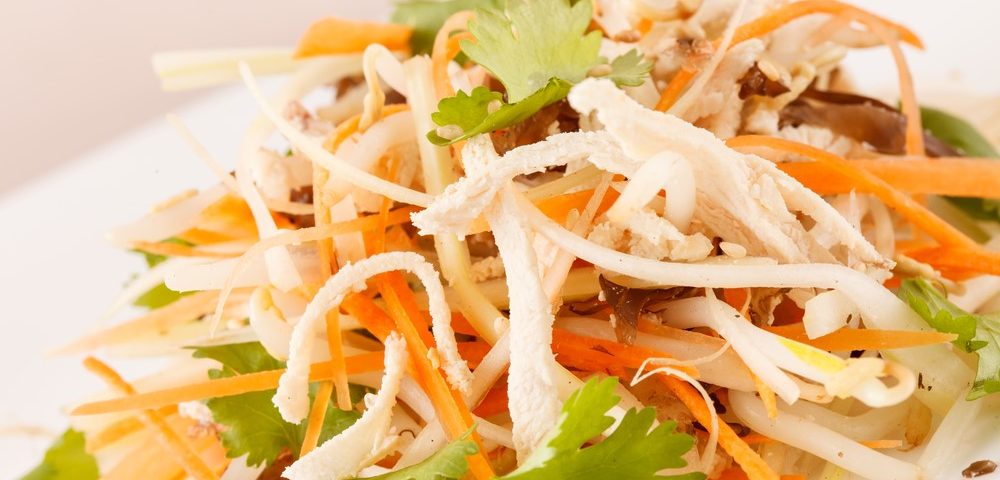 A good chicken salad can be perfect for a lunch or dinner depending on your mood. This salad can be adjusted for any allergies and kids love it too! Enjoy!
Salad Ingredients:
3 cups cooked quinoa

2 cooked and shredded cold  organic chicken breasts

½ cup broccoli finely chopped

½ cup shredded carrot

½ cup red bell pepper (cut into small pieces)

1 cup chopped spinach

2 chopped green onions

¼ cup chopped peanuts (omit if allergic)
Dressing Ingredients:
2 tablespoons organic peanut butter (can use sunbutter if allergic)

2 teaspoons toasted sesame oil

1 teaspoon gluten-free tamari

1 teaspoon brown rice vinegar

juice of half a lime

2 – 3 tablespoons water
Directions:
Add all the salad ingredients into a large bowl, minus the broccoli and dressing.

Gently steam the broccoli for 2 minutes (or 40 seconds in the microwave) and transfer to the salad bowl. Toss ingredients together to combine.

Drizzle dressing over salad and toss again until everything is incorporated and evenly covered by the dressing.

Serve immediately or store in fridge and serve when desired.

Enjoy!