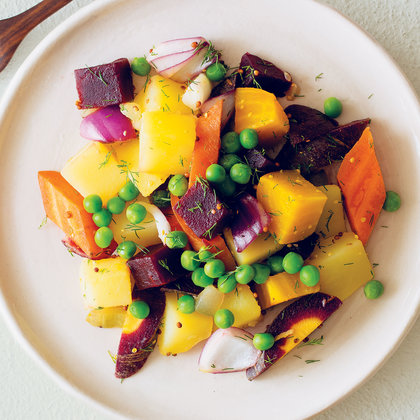 Ingredients:
1 cup coarsely chopped red onion

2 medium beets, tops trimmed

3 medium potatoes

2 medium carrots, cut into ½ inch pieces

½ cup chopped dill pickles

¼ cup chopped fresh dill

¼ cup macadamia nut oil

¼ cup red wine vinegar

2 tsp Prepared whole-grain mustard

½ tsp coarse salt

¼ tsp freshly ground black pepper

½ cup frozen petite green peas, thawed
Directions:
Halve beets and place in a vegetable steamer set over boiling water. Steam, covered, until tender when pierced with the tip of a knife, 20 to 35 minutes depending on size. Let cool. Use a paring knife to pull off loosened skins. Cut beets into ½ inch cubes.

Meanwhile, place potatoes in a saucepan and cover with water. Bring to a boil and cook covered, until almost tender, about 15 minutes. Add carrots and cook until potatoes are tender and carrots are crisp-tender, about 5 minutes more. Drain and let cool. With a paring knife, peel loosened skins from potatoes and cut potatoes into ½ inch cubes.

In a large salad bowl, combine beets, potatoes, carrots, pickles, onion and half the dill. In a small bowl, whisk together oil, vinegar, mustard, salt and pepper until blended. Pour over vegetables and gently fold to combine. Serve at room temperature or chilled. Just before serving, spoon peas over the top of the salad and sprinkle with remaining half of the dill.

Enjoy!