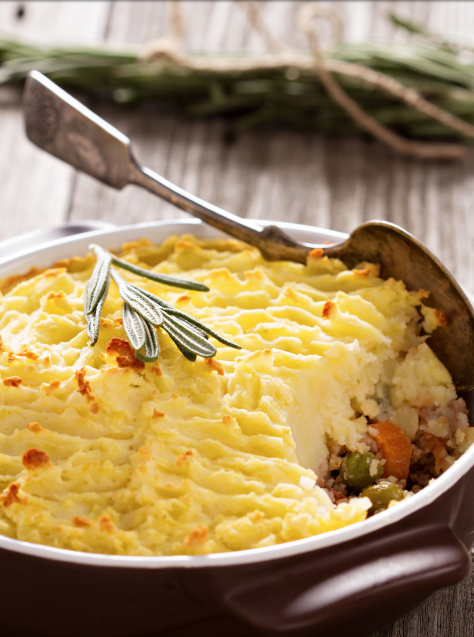 We love Shepard's Pie! And it tastes just as good – if not better – heated up the next day. It's satisfying, filling, and makes your home smell incredible.
For the vegetables, use whatever you have on hand. A frozen veggie mix works well in this too if you are having a hard time finding fresh veggies in your area.
Lunch = 6 servings, or Dinner = 4 Servings
Ingredients
1 1/2 pounds extra lean ground turkey, or lean ground beef

1 tablespoon olive oil

1-2 cloves garlic, chopped, or ¼ tsp garlic salt

1 large white onion, chopped

2 cups carrots, sliced

1/4 cup celery, sliced

1 large zucchini, cubed

3 cups cooked, mashed sweet potatoes, or yukon gold potatoes (instead of using dairy, use broth or water to mash them)

1/4 teaspoon non-iodized salt
Directions
On medium high heat sauté the onions in the oil until translucent. About 3 minutes.
Add garlic, ground meat, veggies, and continue to cook until the veggies are cooked most of the way. They don't have to be completely cooked because they will bake more in the oven. Just a bit tender is good.
When that is finished cooking, transfer everything to a 9×13 casserole dish.
Smooth the potatoes over the meat and vegetable mixture in the casserole dish. Drag a fork lightly across the top to "rough up" the surface a bit for baking.
Bake at 350 degrees F. for approximately 30 minutes or until it's nice and bubbly.