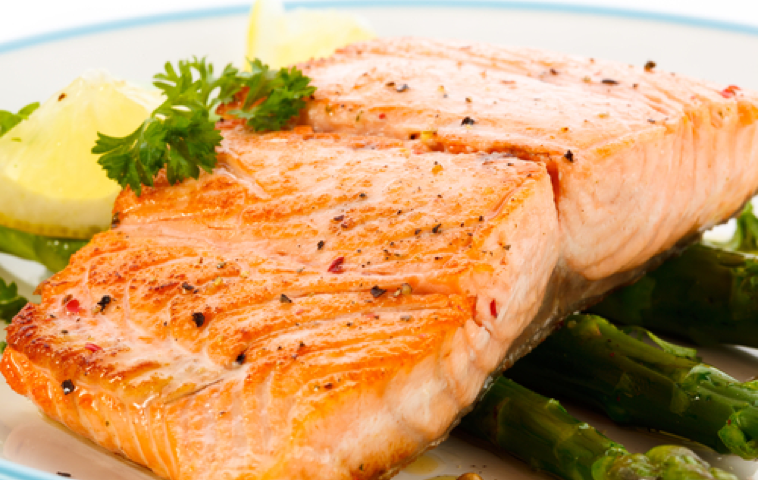 This recipe is EASY and really delicious. It's perfect for a summer night. Salmon is packed with B vitamins, Vitamin D, Selenium, B3, Omega 3's, and protein. This dish is refreshing and would be a perfect accompaniment to some asparagus and cooked wild rice. Enjoy!
Ingredients:
2 -3 wild caught salmon steaks (4-6 oz each)

1/4 cup olive oil

1-2 teaspoons minced garlic

½ -tablespoon onion powder

1 tablespoon smoked paprika (not the same as regular paprika)

½ teaspoon cayenne pepper (do you like it hot? I do!)

2-3 tablespoon fresh herbs (thyme, parsley, basil)

½ – teaspoon iodine-free sea salt

1 pound each baby carrots, pearl onions, and shiitake mushrooms
Directions:
Position a rack in the center of the oven

Preheat the oven to 400ºF.

Line a baking sheet with foil or baking paper and lightly oil. Set aside.

In a small pan set over medium low heat, combine 1/4 c olive

oil, minced garlic, fresh herbs, smoked Paprika, onion powder and cayenne pepper. Stir for about 30 seconds or 1 minute. Let this mixture sit for a little bit about 5 minutes.

Place the salmon in a large bowl, salt then toss with garlic paprika spice mixture. Place on the prepared baking sheet.

Repeat the same process with vegetables place next to the salmon depending on your baking sheet.

Allow the salmon to bake for 15-18 minutes or until cooked through. Cooking times will vary depending on the thickness of your salmon and preference.