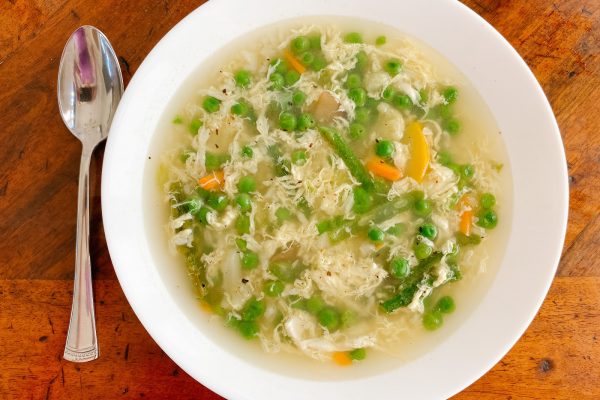 This is a great meal to stretch out your ingredients.
We had a carton of eggs that had to be consumed or cooked that day. We are running low on fresh veggies, but we still have frozen vegetables. And we had leftover rice in the refrigerator. Kirin asked our son Ryan if he wanted fried rice or egg drop soup. So glad he chose this because it was our first time making it, but it was delicious and something we plan on making again.
Note: It's not the ideal amount of protein or good carbs per serving, but again, if you need help stretching out your ingredients, soups are a great way to go because they are filling and nourishing.
Serves: 8
Prep time: 5 min
Total time: 20 minutes
Ingredients:
12 eggs – using only the yolks, or 1 ½ cup of liquid egg whites in a carton

1 package of Frozen veggies – (Get creative here using what you have. We used 1 12oz package of frozen stir fry vegetables + 1 ½ cups of frozen peas)

2 ½ cups cooked rice

10 cups Chicken or vegetable stock, broth, or 3 tbsp of Better than Bouillon (chicken or vegetable base) mixed into 10 cups of water

2-3 tbsp tamari, soy sauce

1 tsp toasted sesame oil, (if you only have neutral flavored oils like avocado, grapeseed, etc, that's fine – but you may want to add in additional seasonings)

Optional: Non-iodized salt

Optional: Pepper
Directions:
Put frozen veggies in a large pot on high heat.
Stir in toasted sesame oil, and tamari. Stir occasionally until the veggies begin to thaw. About 4-5 minutes.
Add rice, and your stock and bring to a boil.
Once it's boiling, slowly pour in the egg whites while stirring the entire time.
Season with optional salt and pepper. Enjoy!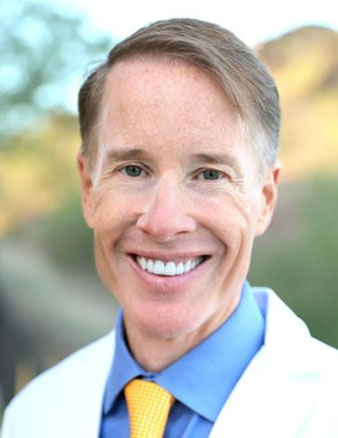 P.S. Whenever you are ready, here is how I can help you now:
1. Schedule a Thyroid Second Opinion with me, Dr. C, Click Here for Details
2. Download and use my Favorite Recipes Cookbook Here
3. Check out my podcast Medical Myths, Legends, and Fairytales Here
Dr. Alan Glen Christianson (Dr. C) is a Naturopathic Endocrinologist and the author of The NY Times bestselling Adrenal Reset Diet, The Metabolism Reset Diet and The Thyroid Reset Diet.
Dr. C's gift for figuring out what really works has helped hundreds of thousands of people reverse thyroid disease, lose weight, diabetes, and regain energy. Learn more about the surprising story that started his quest.