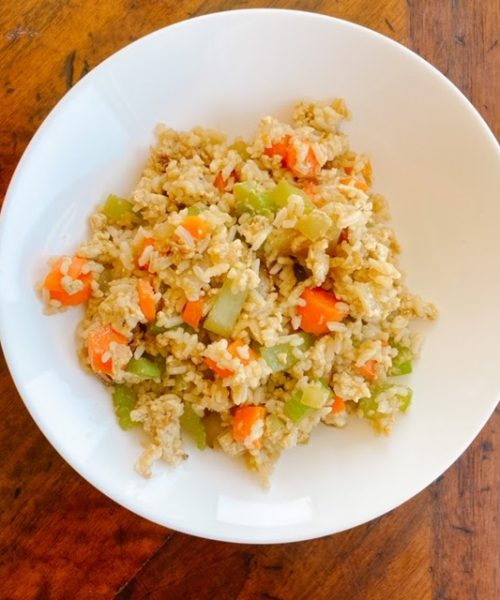 This is a great recipe for your leftover rice. And it is also great for when you want to use up your fresh veggies. You can also use frozen veggies. We used carrots, celery, and onions, but you can use any veggies you have. Spinach is great in this meal too. The trick is to cut everything into small pieces. When using ginger, my favorite trick is to freeze it, then use a Microplane to shave off the amount desired into your meal, so you can freeze the rest of the ginger until next time. Otherwise fresh ginger goes bad.
Serves 4
Prep time:
Total time:
Ingredients:
1 ½ cups Egg whites, or tofu

2 cups cooked rice

½ – 1 chopped onion

3 chopped carrots

2 chopped celery ribs

1 tablespoon Better than Bouillon mixed in ½ cup water, or ½ cup veggie stock/broth

2 tablespoons Tamari soy sauce

½ teaspoon Ginger

2 teaspoons toasted sesame oil
Directions:
On medium-high heat, saute onions in toasted sesame oil until translucent.
Add in carrots and celery. Cook until softened (about 3-5 minutes).
While they are cooking add in tamari, bouillon, and ginger. Stir everything together.
Add egg whites to the pan and turn down to medium heat. Stir frequently until almost cooked (about 3-5 minutes).
Add in rice, cover, and stir occasionally until the rice is warm (about 3 minutes).
Serving suggestions: Although this is a great recipe to stretch your ingredients, it's not quite enough protein for a full serving. If you can add a side of protein, or toss in some leftover chicken or tofu (be sure to chop into small bits), that is even better.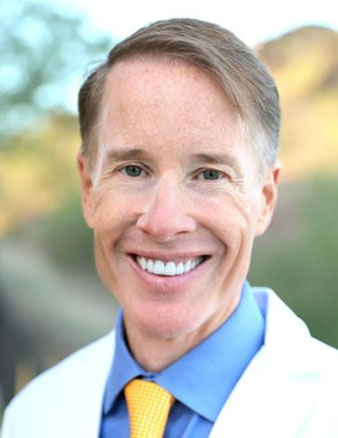 P.S. Whenever you are ready, here is how I can help you now:
1. Schedule a Thyroid Second Opinion with me, Dr. C, Click Here for Details
2. Download and use my Favorite Recipes Cookbook Here
3. Check out my podcast Medical Myths, Legends, and Fairytales Here
Dr. Alan Glen Christianson (Dr. C) is a Naturopathic Endocrinologist and the author of The NY Times bestselling Adrenal Reset Diet, The Metabolism Reset Diet and The Thyroid Reset Diet.
Dr. C's gift for figuring out what really works has helped hundreds of thousands of people reverse thyroid disease, lose weight, diabetes, and regain energy. Learn more about the surprising story that started his quest.