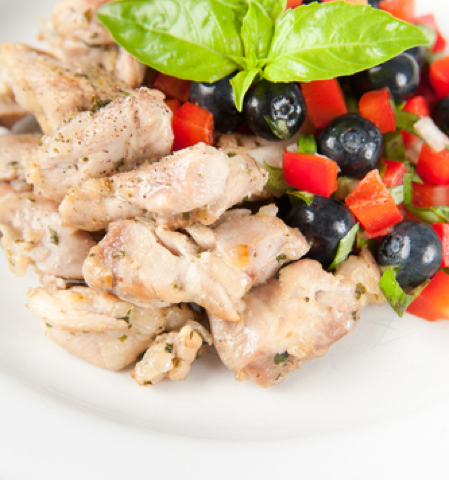 These past few weeks in Scottsdale have been pretty nice due to some exciting monsoons. They don't last long, but they are the perfect amount of change we need for sanity. This recipe is perfect for a nice patio dinner. It is is light and tasty! Enjoy!
Makes 4 servings
Ingredients:
2 tbsp olive oil

1 tsp salt (non-iodized salt, Diamond, or Mortons brands)

1 tsp ground cumin

2 medium limes (divided)

4 organic chicken breasts

1 organic avocado, ripe

1 cup blackberries (chopped) or blueberries

1 cup fresh or thawed corn kernels

1 medium jalapeño, thinly sliced (if you like it as spicy as I do, throw in a sliced habanero also. Just don't say I didn't warn you!)

fresh cilantro
Directions:
Heat an outdoor grill to high. Meanwhile, marinate the chicken.

Place the oil, salt, and cumin in a large resealable bag. Finely grate the zest of 1 of the limes and add to the bag. Juice the lime, add the juice to the bag, and mix to combine. Add the chicken breast, seal the bag, and refrigerate for 15 minutes.

Meanwhile, zest and juice the remaining lime and place the zest and juice in a small bowl. Add the blackberries or blueberries, corn, and jalapeño. Dice avocado into bite sized pieces and add to bowl. Season with salt and stir to combine; set aside.

When the grill is ready, remove the chicken from the marinade and place on the grill. Cover and grill until the chicken is cooked through which should be 6 to 8 minutes per side. Remove to a cutting board and let stand 5 minutes before slicing. Top with the blackberry-corn salsa and cilantro before serving.

To round out your good carbs and make a dazzlingly colorful dish, try serving along with some steamed orange lentils.