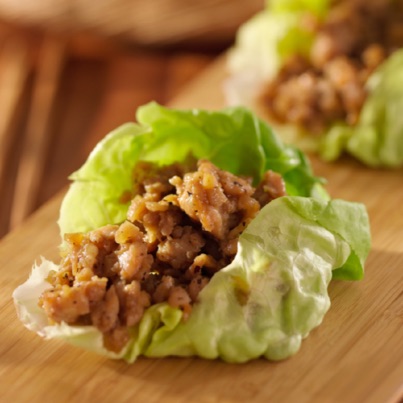 Lettuce wraps are a great way to get good protein in and light enough for a lunch or dinner. This is a copycat recipe for many different unhealthier versions you can find at chain restaurants. Remember when eating healthy, you can always make alternatives to your favorite "comfort" foods. Just add cooked rice and enjoy!
Sauce Ingredients:
⅔ cup Eden brand gluten-free teriyaki sauce

⅔ cup water

1 tablespoon xylitol

½ teaspoon ground mustard

½ teaspoon granulated garlic

½ teaspoon onion powder

¼ teaspoon ground ginger

1½ tablespoons sweet chili sauce
For Lettuce Wraps:
1 cup finely chopped carrots

1 cup chopped celery

1 cup chopped mushrooms

1 tablespoon avocado oil

Sea salt (non-iodized salt, Diamond, or Mortons brands)

pepper

1 lb organic lean ground turkey

3 stalks green onions

12-16 butter or iceberg lettuce cups

2 cups cooked brown rice
Directions:
Begin making the sauce by combining all sauce ingredients in a small saucepan. Heat slightly above medium heat until mixture comes to a low boil. Stir constantly for 4 minutes to thicken. Remove from heat.

To make turkey filling, prepare veggies by chopping carrots, celery, mushrooms, and green onions.

Heat 1 tablespoon avocado oil in a large saucepan/skillet over slightly above medium heat. Once the pan is hot enough that a drop of water sizzles, add all veggies but green onions. Stir to coat with oil. Lightly season with salt and pepper. Saute veggies for 6 minutes, stirring occasionally to avoid burning.

Add turkey to veggie mixture. Break up turkey with a spatula. Lightly season with salt and pepper. Add green onions. Cook ground turkey until cooked through and no longer any traces of pink, about 5-6 minutes.

Drain any liquid from turkey mixture. While mixture is still warm, spoon about ½ cup of sauce over turkey. Stir to coat all mixture. Add additional sauce to the mixture as desired.

Serve by adding cooked brown rice and turkey mixture into lettuce cups and serve with remaining sauce for drizzling.