Dr. Joe Tatta: Healing Pain Podcast – Nutrition Facts And Fiction About Pain Watch Now
Learn True Health Podcast with Ashley James – Episode 307: Metabolism Reset Diet Listen Now
Dr. Jack Wolfson: The Healthy Heart Show – Waist Loss Not Weight Loss with Dr. Alan Christianson Watch Now
Paleo FX with Keith Norris – Watch now on Facebook
Dr. Ritamarie Loscalzo – Watch now on Facebook
Dr. Suzanne Bennett:  Wellness for Life Radio – Metabolism Reset Diet List Now
The Betty Rocker – Watch now on Facebook
Debra Atkinson: The Flipping 50 Show – Need a Metabolism Reset? Listen Now 
Tricia Nelson:  Heal Your Hunger – The Metabolism Reset Diet Watch or Listen Now
Erin Mullins Sanders:  Fit Rocker Chick – Watch now on Facebook
Ashley James:  Learn True Health Podcast – Metabolism Reset Diet Listen Now
Dr. Anna Cabeca – Watch now on Facebook
Dr. Ruiz:  30/30 Health Podcast – An Interview with Dr. Alan Christianson Listen Now
Magdalena Wszelaki: Hormones Balance – Watch on Facebook Now
Shawn Stevenson: Model Health Show – Metabolism Reset Diet Listen Now 
Anthony Youn:  The Holistic Plastic Surgery Show – How to Reset Your Metabolism Listen Now
Katie Wells:  Wellness Mama – Using the Metabolism Reset Diet to Support Liver Health Listen Now
Trevor Cates:  The Spa Dr – Reset Your Metabolism to Achieve Weight Loss Goals Watch Now
Dr. Tom O'Bryan – Watch now on Facebook
Abel James:  Fat-Burning Man – Metabolism Reset, Liver Health & Why You Can't Hack a Garden Listen Now
Maru Davila:  Lasting Weight Loss Coach & Chef – Metabolism Reset & Liver Health are the Secrets to Weight Loss Watch Now
David Gottfried:  Regen360 – Episode 72 Dr. Alan Christianson Listen Now
Jennifer Fugo:  Health Skin Show – How to Combat Your Chronic Skin Issues by Helping Your Liver Listen Now
Andrea Nakayama:  Functional Nutrition Alliance – Mapping Metabolism with Dr. Alan Christianson Listen Now
Meghan Walker:  The Entrepology Podcast – The Real Reason You Can't Lose the Weight That You Want – It's Not What You Think http://meghanwalker.com/podcast/episode-104-real-reason-cant-lose-weight-want-not-think-dr-alan-christianson/Listen Now
Robyn Openshaw:  Green Smoothie Girl – Reset Your Metabolism with Dr. Christianson Listen Now
Debi Silber:  From Betrayal to Breakthrough – Episode 36 The Betrayal of the Diet Industry Listen Now
Sarah Clark:  Get Pregnant Naturally – Why a Healthy Liver Matters for Fertility Listen Now
Richard Jacobs:  Future Tech Podcast – Thyroid Health and a Life Well-Lived Listen Now
Lori Shemek & Omar Cumberbatch:  This Podcast Burns Fat – Is Detoxifying Your Liver the Key to Jump Start Your Metabolism Listen Now
Pedram Shojai:  The Urban Monk – Reset Your Metabolism Listen Now
Reena Jadhav:  Health Bootcamp – Book Summary "Metabolism Reset Diet"  Listen or Watch Now
Vanessa & Adam Lambert:  Bee The Wellness – EP169:  The Metabolism Reset Diet Listen Now
Jesse Chappus & Marni Wasserman:  The Ultimate Health Podcast – Dr. Alan Christianson The Metabolism Reset Diet – Is your liver overloaded Listen Now
Felicia Romero:  Diet Dropout – A Fresh Take on Fitness – Ep. 11 Can You Heal Your Thyroid with Dr. Alan Christianson Listen Now
Dr. David Friedman:  To Your Good Health Radio – Metabolism Reset Diet:  How to Repair Your Liver and Lose Weight Naturally Listen Now
Ben Pratt:  Fit to Succeed – Stress and Metabolism Reset with Dr. Alan Christianson Watch Now
Razi Berry:  Love is Medicine – Reset Your Metabolism Listen Now
Happy Hormones Magazine – Maintaining Hormone Balance Naturally Read Now
Andrea Nakayama:  15-Minute Matrix – Mapping Iodine with Dr. Alan Christianson Listen Now
Danna Bowman:  Thyroid Fresh TV – Is Your Liver the Key to Weight Loss and Metabolism? Watch Now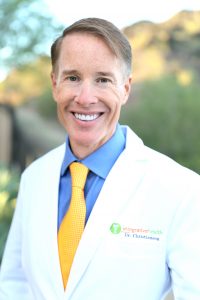 P.S. Whenever you are ready, here is how I can help you now:
1. Schedule a Thyroid Second Opinion with me, Dr. C, Click Here for Details
2. Download and use my Favorite Recipes Cookbook Here
3. Check out my podcast Medical Myths, Legends, and Fairytales Here
Dr. Alan Glen Christianson (Dr. C) is a Naturopathic Endocrinologist and the author of The NY Times bestselling Adrenal Reset Diet, The Metabolism Reset Diet and The Thyroid Reset Diet.
Dr. C's gift for figuring out what really works has helped hundreds of thousands of people reverse thyroid disease, lose weight, diabetes, and regain energy. Learn more about the surprising story that started his quest.