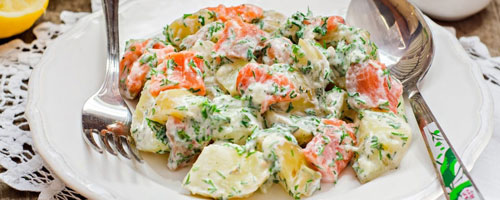 Cooked red potatoes are packed with resistant fiber, which is great for adrenals. Wild caught salmon can be enjoyed a few times a week, and this would be a great way to incorporate that. It's perfect for a lunch meal prep and can also be used for dinner. Enjoy
For the salad:
1 pound small red potatoes quartered

1 pound green beans

1 can wild caught salmon

1 small red onion, diced

2 tablespoons chopped fresh parsley

Lettuce for serving
For the dressing:
2 1/2 tablespoons champagne vinegar

1 teaspoons Dijon mustard

Sea salt and pepper to taste

1/4 cup organic olive oil
Additional toppings:
Avocado

Beets

Brussel Sprouts
Directions:
Bring a pot of salted water to a boil. Add the potatoes and cook for 5 to 10 minutes, until fork tender. Remove with a slotted spoon, reserving the hot water for the beans. Place the drained potatoes in a medium bowl.

While the potatoes cook, prepare the vinaigrette. Whisk together the vinegar, mustard, salt, and pepper in a small bowl. Slowly add the olive oil, while continuing to whisk until the vinaigrette is emulsified. Set aside.
Bring the water back to a boil. Add the green beans and cook for about 3 minutes, until crisp-tender. Drain and pat dry. Add the beans to the potatoes, along with the salmon, red onion, and parsley. Season with salt and pepper to taste.
Add vinaigrette, and any additional toppings, and toss and serve immediately over your choice lettuce.