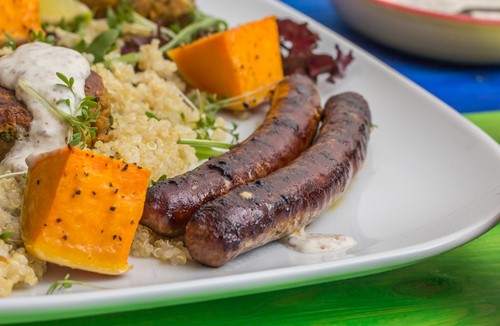 Fall is here and it's time for Crock-pot and casserole recipes! Yay! There's nothing better than cozening up on a nice cool night with a warm healthy meal. Get ready for a series of these kinds of recipes. Enjoy!
Ingredients:
1 cup rinsed and uncooked quinoa

2 cups veggie/low sodium chicken broth

¼ cup finely diced red onion

1 sausage – Aidells Organic Chicken & Apple sausage

2 cups shredded brussels sprouts

2 small sweet potatoes peeled and diced

2 tablespoons rice vinegar

2 tbsp extra virgin olive oil

2 cloves organic garlic

3 tsp organic Italian spice mix

salt and pepper to taste (non-iodized salt, Diamond, or Mortons brands)
Directions:
Preheat oven to 350ºF and lightly grease a casserole dish with olive oil.
Prep your veggies by peeling and dicing sweet potatoes, chopping onion, and shredded brussels sprouts.
Place veggies in a gallon size plastic bag. Add olive oil, spices, salt and pepper, and shake. Toss the veggies until everything is fully coated.
Place quinoa on the bottom of your casserole dish. Then you'll add the broth and rice vinegar.
Place veggies on top of quinoa followed by sliced apple chicken sausages.
Bake at 350ºF for 60 minutes or until the quinoa is fully cooked.
Enjoy this yummy casserole! ?