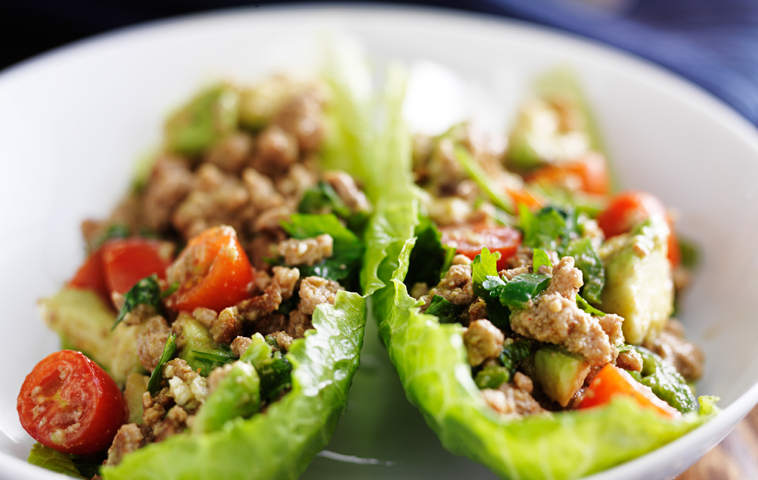 Taco Tuesday is one of the best days in our household. We enjoy being creative with many different ingredients and flavors. These tacos are great because they contain good sources of protein and fiber. The freshness of flavors is perfect for summer.
We love to put each garnish in its own tiny serving bowl and let people fix up their dish as they see fit. Enjoy!
Ingredients:
1 cup quinoa, cooked

2 tbsp avocado oil

3  cloves garlic, minced

1/2  red onion, thinly sliced

pinch of sea salt and black pepper, adjust to taste

1 can black beans

1 cup organic sweet corn (canned or thawed)

1 cup thinly sliced bell peppers

1/3 cup fresh chopped cilantro

1 tsp freshly ground cumin seeds

2 tbsp MSG-free taco seasoning

Juice of 1 lime

Juice of 1 lemon

1  head of Butter Leaf lettuce

1 lb cooked organic chicken shredded
Garnish Options:
Fresh cilantro

Black olives

Sliced Jalapeno

Diced tomato

Diced avocado

Green Chilis

Organic sour cream (OK even with dairy allergies because it contains no lactose or casein)
Directions:
Cook quinoa to package directions.

Meanwhile, in a skillet, add avocado oil, sea salt, black pepper, onions, and garlic and cook for 8 minutes or until fragrant.

Add in cooked quinoa, shredded chicken, rinsed beans, corn, and peppers until warm. Stir in taco seasoning, juice of lime, and lemon.

Adjust seasonings to taste.

Next, take one washed and dried romaine leaf and dollop the quinoa mixture in the center, fill with optional garnishes and wrap edges of the butter leaf onto itself as a handheld wrap. Enjoy! ?