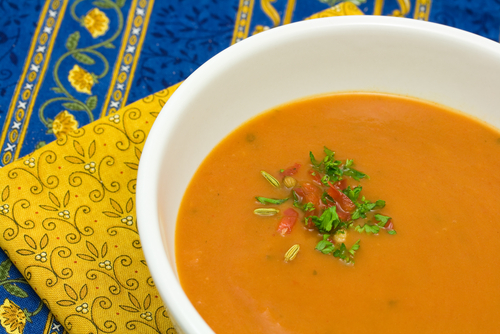 Who doesn't love soup? This Roasted Orange Pepper Soup has a complex depth of flavor, alongside the sweet kick of orange – and a little bit of spice, too. It's a fantastic combination, and is likely going to be a welcome addition to your weekly meal planning!
Ingredients:
1 tablespoon avocado oil

1 large yellow or sweet onion, diced

2 tablespoons chopped garlic

1/2 to 1 teaspoon crushed red chili flakes

1 teaspoon sea salt or Herbamare (non-iodized salt, Diamond, or Mortons brands)

4 cups organic vegetable or chicken stock

4-5 orange peppers, roasted

4 cups chopped tomatoes

1/4 cup minced fresh parsley

1/4 cup minced fresh basil
Directions:
Heat the oil in a 6-quart pot over medium heat. Add the onion, garlic, red chili flakes, and sea salt and sauté until translucent.
Add the peppers and tomatoes to the pot and simmer for 20 minutes, covered, stirring occasionally.
Puree the soup in blender in batches, then return to pot, or use an immersion blender to puree the soup in the pot.
Cook on low heat for about 5 minutes, then add the parsley and basil and cook for 5 minutes more, stirring often.
Taste and adjust the spices if necessary.
Chef's Tip: This soup has a medium rating for spiciness; if you like it mild, add 1/2 teaspoon less of the crushed red chili flakes, or add 1/2 teaspoon more for hotter soup.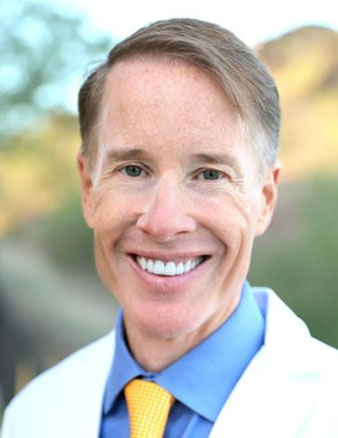 P.S. Whenever you are ready, here is how I can help you now:
1. Schedule a Thyroid Second Opinion with me, Dr. C, Click Here for Details
2. Download and use my Favorite Recipes Cookbook Here
3. Check out my podcast Medical Myths, Legends, and Fairytales Here
Dr. Alan Glen Christianson (Dr. C) is a Naturopathic Endocrinologist and the author of The NY Times bestselling Adrenal Reset Diet, The Metabolism Reset Diet and The Thyroid Reset Diet.
Dr. C's gift for figuring out what really works has helped hundreds of thousands of people reverse thyroid disease, lose weight, diabetes, and regain energy. Learn more about the surprising story that started his quest.