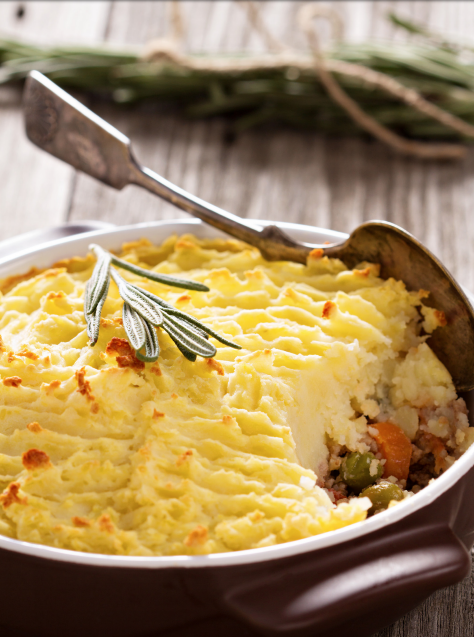 This is an update on the all-time favorite comfort food recipe from The Adrenal Reset Diet. I've made this with vegan ground "meat", and it worked perfectly. Just be sure to avoid any products made with seaweed-based binders (carrageenan, alginates, agar-agar).
SERVES 4                                PREP TIME: 40 MINUTES                             TOTAL TIME: 1 HOUR 20 MINUTES
Ingredients:
1 tablespoon salt

3 cups peeled and diced russet potatoes (from 3 to 4 potatoes)

Avocado oil in a mister or nonstick cooking spray

8 ounces lean ground meat substitute

1 medium yellow or sweet onion, diced

8 ounces fresh button mushrooms, sliced

3 medium carrots, sliced into thin coins

2 celery stalks, chopped

3 tablespoons unsalted beef or vegetable broth
Directions:
Preheat the oven to 350 F.

Bring a large pot of water to a boil and add the salt. Add the potatoes, reduce the heat to medium, and simmer for 12 minutes, or until the potatoes split easily with a fork. Drain and mash the potatoes with a potato masher or in a food processor, add a little cooking water or broth to soften, if necessary.
Mist a large skillet with the avocado oil and heat on medium-high heat until a drop of water sizzles. Add the meat and brown it, stirring, for 4 to 5 minutes. Transfer to a plate.
Add the onion to the skillet and saute until translucent, about 2 minutes.
Add the mushrooms and saute until soft, 1 to 2 minutes. Then add the carrots, celery, and broth. Stir and saute for 3 minutes, then add the meat, and stir to combine.
Pour the meat mixture into a 2-quart casserole dish and spread the mashed potatoes evenly over the top. Cover with aluminum foil and bake for 25 minutes. Then uncover and bake an additional 10 minutes, until potato topping is lightly browned in spots.