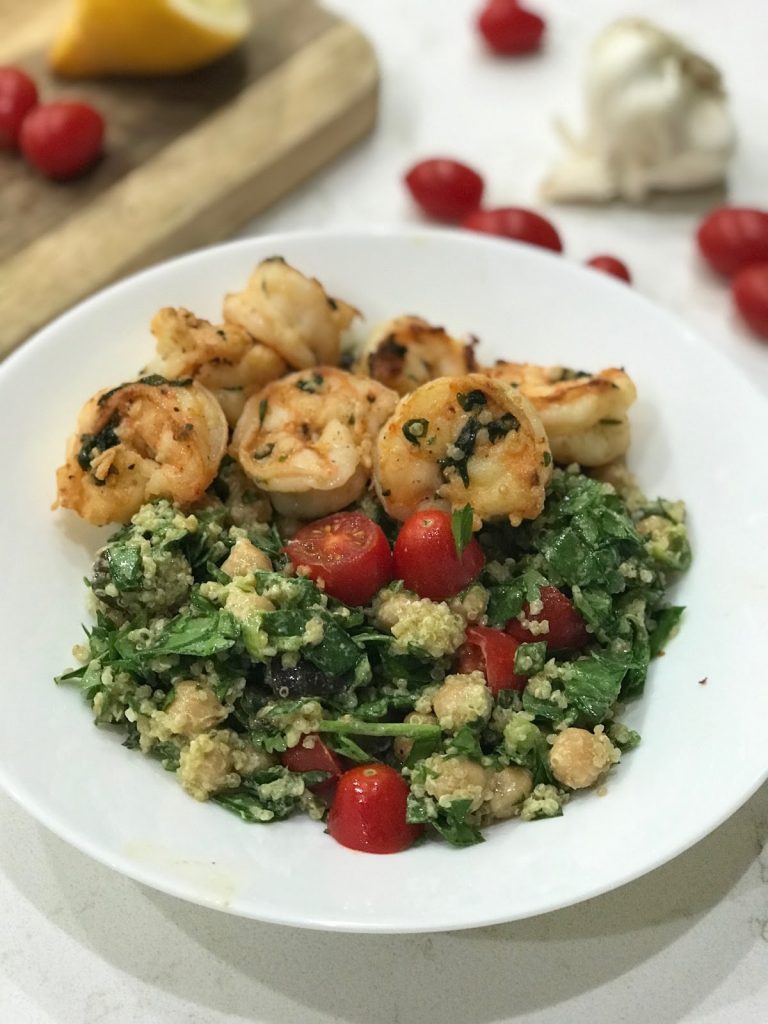 Food is a family affair at our house. Not only do Dr. C and I love to cook, but our 19-year-old daughter, Celestina, loves cooking as well. One night when Dr. C was recently out of town I invited her to come over and help with dinner. She loves to use more seasonings and more ingredients than I do. And I have to say, her flavor combinations are exceptional. And the ingredients are easy to find.
What do you think of her recipe? Would you like to see more of her recipes?
4 Servings – Dinner
Or 6 Servings for Lunch
Ingredients
Shrimp:
1 pound large shrimp

1 tbs olive oil

2 cloves of crushed garlic

½ lime juiced

Salt & pepper to taste

1 tbs of fresh cilantro

Squeeze of sriracha (optional)
Salad:
1 cup of cooked quinoa (unseasoned)

1 cup of chopped spinach (Add more if you want more greens)

1/4 of a cup of chopped parsley

1/4 of a cup of chopped cilantro

1/4 of a cup chopped green onions

A 16 oz can of chickpeas (drained)
Dressing:
½ lemon squeezed and zested

1 tbs tahini

2 tbs olive oil

1-2 cloves crushed garlic

Salt & pepper to taste (non-iodized salt, Diamond, or Mortons brands)
DIRECTIONS
Shrimp:
Heat the olive oil in the pan on medium-high heat. Add shrimp, garlic, lime, salt, pepper. Cook halfway through and then add sriracha based on your preference. Cook until it's pink. Top with cilantro.
*Don't overcook or it will have a rubbery texture.
Salad:
Mix the chickpeas, cilantro, parsley, quinoa, and spinach and mix.
Dressing:
Mix all the ingredients together. Pour into the salad.
*For a lunch serving, you want ½ cup of carbs, so with all the fresh veggies too, that would be about 1 cup of 'salad'
*For a dinner serving, you want ¾ cup of carbs, so with all of the fresh veggies in there, that would be about 1½ cup of 'salad'
Kirin & Celestina Christianson