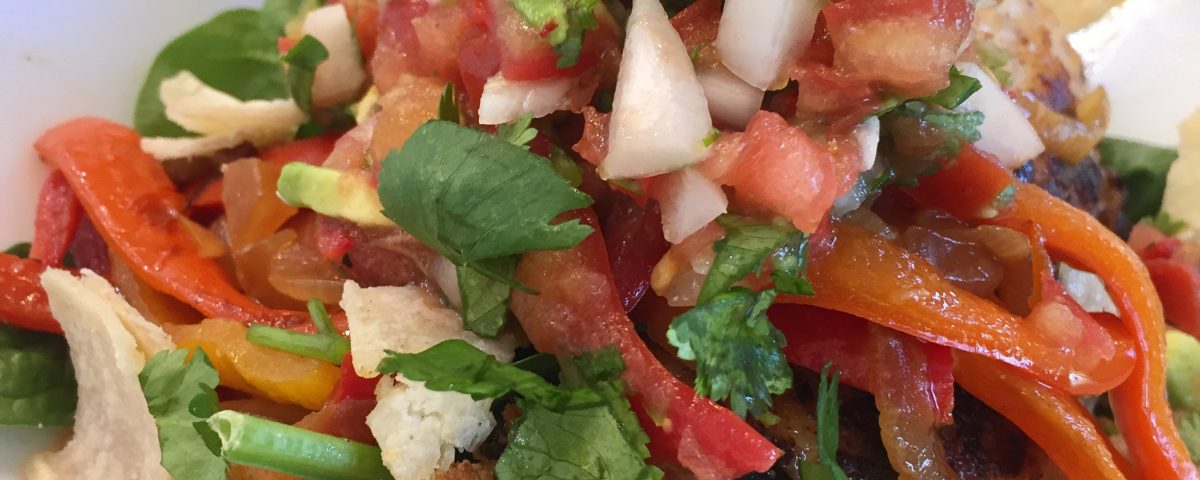 Living in Arizona I've always had an affinity for Mexican food. It's hard to find HEALTHY Mexican food though, (in the states at least) because so much of what is served in restaurants is deep fried and covered in cheeses they seldom use in Mexico. My version is fresh, simply flavored, and delicious for the whole family.
Dr. C and I learned long ago that having a "build your own taco bar" was an easy way to serve food that meets everyone's dietary requirements – because they can add as much protein, veggies, carbs, and fats as they like. We employ this same idea on fish taco night with the kids. (Although we have to make our son eat more veggies than he would on his own). Once you cook the fish, then put all the other ingredients out so everyone can build their own tacos, salads, or bowls using the same ingredients below.
For the sprouted almonds, my dad turned us onto the brand, Americona Almonds. It's a company he promotes, and I think they taste better – and they cost less – than other brands. (Find them on Amazon or local healthy grocery stores). You can use regular almonds for this dish, but I find sprouted almonds have a totally unique flavor – which adds a fun element to this dish. Tell me what you think about it.
INGREDIENTS:
White fish (of your choice. Stick with something that is in season)

Avocado oil

Sprouted Almonds – crushed/blended into a flour-like consistency

Lettuce – shredded

Sliced tomatoes

Chopped onions

Pinto Beans – cooked

Rice tortillas

Lime

Salt & Pepper to taste

Optional: Cilantro
DIRECTIONS:
Brush oil into pan and heat up to a medium-high temperature.
On a plate, put the sprouted almonds you've crushed into a flour.
Squeeze lime on the fish and rub it.
Brush oil onto fish, then drudge with crushed sprouted almonds. (a little goes a long way – you don't want/need much to adhere to the fish)
Place all of the fish into the hot pan. Cook 3-5 minutes depending on thickness.
Brush pan with oil as you pick up each piece and then flip and cook for another 3-4 minutes. (When in doubt, barely UNDERCOOK fish and let it "rest" because it will cook more on it's own. Overcooking makes it rubbery. You want it to gently flake with a fork)
In your dinner bowl, add beans, lettuce, peppers, onions, tomatoes, fish, and tear some rice tortilla into small pieces.
Squeeze lime and (optional) top with fresh cilantro.
Enjoy this light and flavorful dish!
Kirin Christianson
 *  To make this Adrenal Reset Diet worthy, use 1 small rice tortilla + ½ cup beans,
OR
2 small rice tortillas + ¼ cup of beans
OR
NO tortillas, and ¾ cup of beans