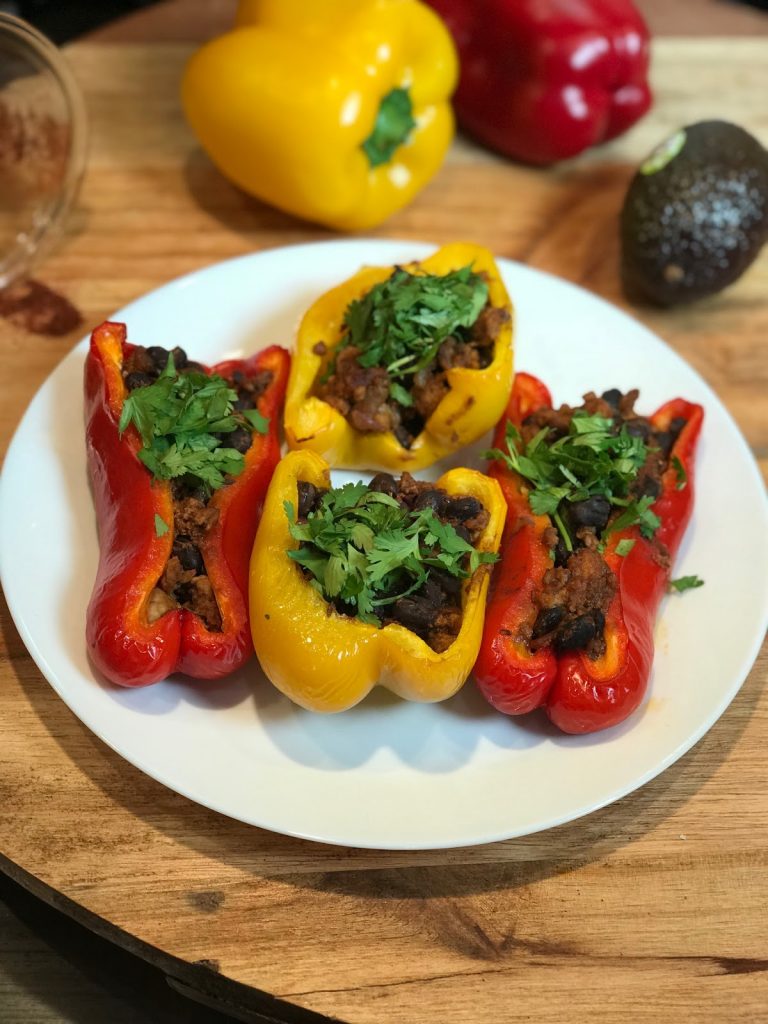 Serves 4
Ingredients:
4 Peppers of your choice (Red = sweet, Green = bitter, Yellow & Orange = neutral-sweet)

1 pound Ground turkey (extra lean)

½  onion, chopped

½ cup of beef or vegetable stock (we like Better Than Bouillion)

15.5 oz, can of black beans (no salt), drained and rinsed

3 cloves of garlic, crushed

1 tbsp of tomato paste

1/2 tsp paprika

½ tsp cumin to taste

2 tbsp chili powder

salt & pepper to taste

Optional: Oregano or chives
Directions:
Preheat oven to 425.

Cut bell peppers in half. Lightly spray cookie sheet with avocado oil and bake for 15 minutes at 425.

While they are baking, saute the onions on medium-high heat in a bit of olive oil until translucent.

Add garlic and cook for 30 seconds.  

Add turkey, stir every couple of minutes, and cook until only ½ of it is pink.

Add tomato paste, broth, and the chili, cumin, and paprika.

Mix in the can of beans once the liquids have simmered down

Put the mixture in the bell peppers and bake for another 10-15 minutes. *The photo is from after cooking the meat, but before baking all of it together again.  

After you take them out of the oven, top with a bit of cilantro (optional), or chives.
**If you aren't sensitive to dairy, you can also add a teaspoon of a fat-free, high protein yogurt, like Siggi's.  
Kirin & Celestina Christianson