Hi There,
Dr. C here with you.
Update
I just read a report on COVID-19 projection from the Imperial College of London.
It could not have been more sobering. Our current lack of federal policy will lead to a projected 2.2 million deaths in America, most of which will occur by June.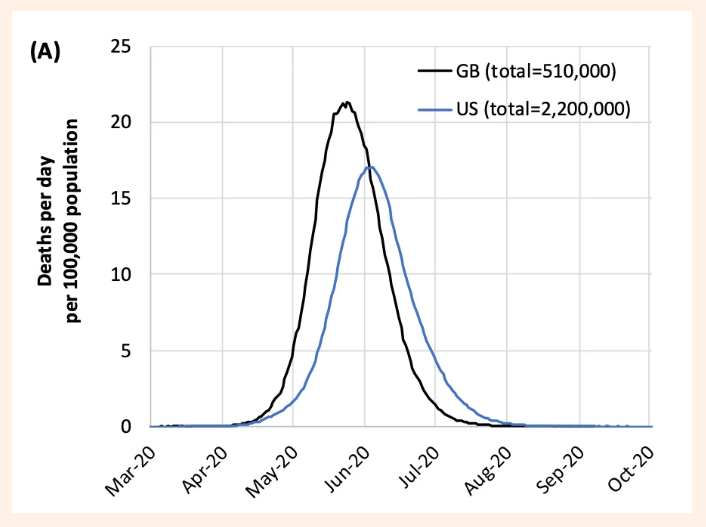 The graph below shows how this surge of cases compares the number of beds we have available in critical care units (flat red line on the bottom). Once the cases exceed the capacity of critical care, the death rates from severe cases will go up significantly.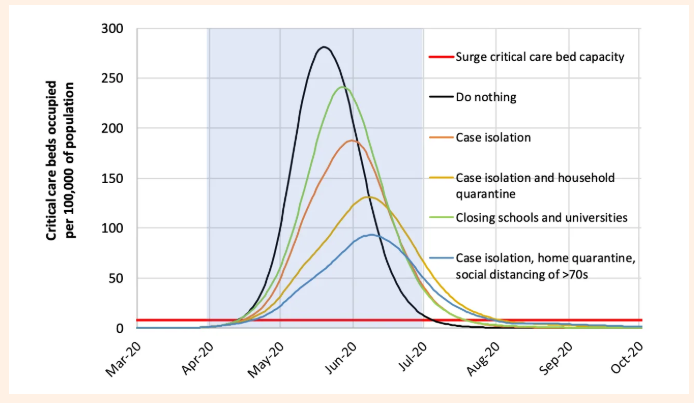 The other lines show possible scenarios. The top is our current trajectory. It is shocking to see how each of the various measures may help but even at full home quarantine, which we will not be able to do, it is still a pretty grim summer.
I'm a healthy enough guy. The odds are that if I got COVID-19, I'd be OK. Yet we all have to realize that we are all in this boat together. Social isolation is essential, if not for yourself than for others.
You just have to do it.
Doing so won't prevent a bad situation, but it might prevent an unimaginable catastrophe.
How long will this go on for? Per the authors of the paper, social isolation will be necessary at least 2/3 of the time until a vaccine is developed in 18 months.
Why 2/3 of the time? They project that isolation can occasionally be relaxed but will need to be reinstated when the cases start to rise again.
Will we have a vaccine in 18 months? Perhaps but vaccine development scientist Peter Hotez has concerns that if we do have one that quickly, it may not be an effective one.
I'm trying to just wrap my head around the fact that life as I knew it will not be the same. Not in the foreseeable future.
Perhaps it is fortuitous that most of us can only stay terrified for brief periods of time before we start to think about what we should make for dinner or whether this outfit should be retired.
Tip
Are you getting your exercise? How much is best for your immune system? There is a popular idea that exercise can suppress your immune system.
In a detailed summary entitled: Debunking the Myth of Exercise-Induced Immune Suppression: Redefining the Impact of Exercise on Immunological Health Across the Lifespan, researchers conclude that:
". . . leading a physically active lifestyle reduces the incidence of communicable (e.g.,
bacterial and viral infections) and non-communicable diseases"
Even if you suddenly start exercising much harder than you are used to, your immune system will likely get healthier if you stick with it.
How much is best? From recent data, it seems the more exercise the better up to about 90 minutes per day. Once you are past 90 minutes per day, exercise is still not harmful, just not of any additional immunologic benefit.
All types of exercise are good but cardio training is the type that is worth spending the most time on. Alright, so how do you go about cardio training right now? Your gym is likely closed, even if it is not you should not go there. Trails might be crowded.
Find a solid surface that is 8-12 inches off from the ground. Put it in front of your TV – you're probably spending plenty of time here these days. Have the step surface near a wall or something else to hold onto in case you are unsteady. Basically you can use it as a StairMaster machine.
Take a look at this video for the procedure.
Can you step through an entire episode of your favorite show? I bet you can. If not I bet you will be able to within a week. I'd love to see what you found in your house to use.
Please share a picture of your home StairMaster on social media to give the rest of us more ideas. Go to Facebook or Instagram @dralanchristianson and use #covidstepsathome so I can find you!
If you are on social media regularly, please join me Mondays at 4 pm PST for Office Hours Live. Bring your questions and come ready for some fun. Hope to see you this coming Monday.
To your best health,
Dr. C
Today's recipe: Egg (White) Drop Soup
Monday's recipe: Fast and Easy Chili
Sunday's recipe: Easy Recipe Soba Tea
Friday's recipe: Lamb and Carrot Stew
Thursday's recipe: Better Than "Cream of Mushroom" Chicken & Rice
Wednesday's recipe: Peas and Meat – Irish Comfort Food
Reference
Campbell JP, Turner JE. Debunking the Myth of Exercise-Induced Immune Suppression: Redefining the Impact of Exercise on Immunological Health Across the Lifespan. Front Immunol. 2018;9:648. Published 2018 Apr 16. doi:10.3389/fimmu.2018.00648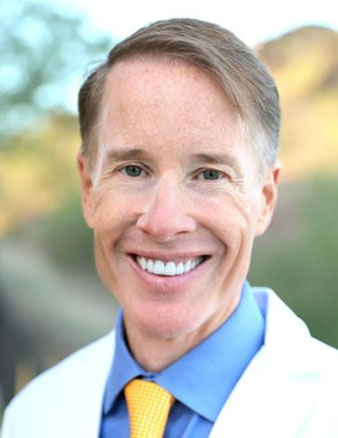 P.S. Whenever you are ready, here is how I can help you now:
1. Schedule a Thyroid Second Opinion with me, Dr. C, Click Here for Details
2. Download and use my Favorite Recipes Cookbook Here
3. Check out my podcast Medical Myths, Legends, and Fairytales Here
Dr. Alan Glen Christianson (Dr. C) is a Naturopathic Endocrinologist and the author of The NY Times bestselling Adrenal Reset Diet, The Metabolism Reset Diet and The Thyroid Reset Diet.
Dr. C's gift for figuring out what really works has helped hundreds of thousands of people reverse thyroid disease, lose weight, diabetes, and regain energy. Learn more about the surprising story that started his quest.