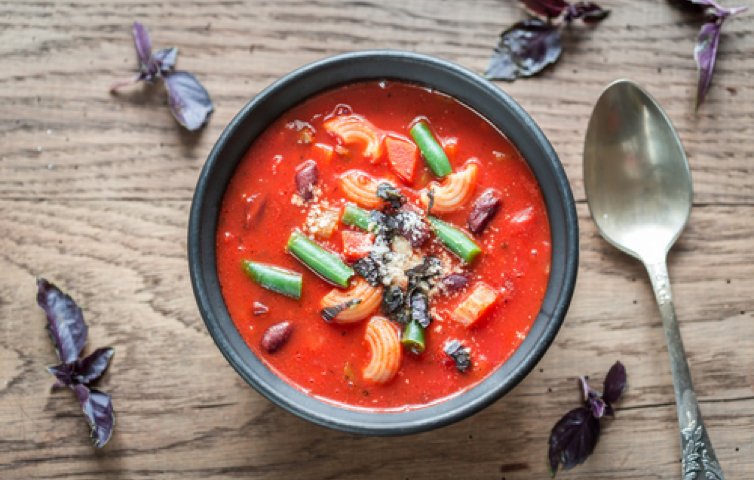 This classic soup cannot be missed. It's great for monsoon season when you're looking for a lighter soup to cheer you up. It's perfect for families because kids love it too! Enjoy!
Ingredients:
Makes 8-10 servings. Keep it in the refrigerator. Soup is even better the next day.
1 1/2 cups gluten-free pasta

2 tbsp olive oil

1 16 ounce tub of cherry tomatoes

2 tbsp better than bouillon organic chicken broth

8 cups purified water

6  cloves garlic, chopped

1  large chopped yellow onion

3  stalks chopped celery

2  large chopped carrots

1 tbsp fresh chopped thyme

1 can diced tomatoes

1 can chickpeas rinsed and drained

1 can white kidney beans rinsed and drained

1 can red kidney beans rinsed and drained

2  medium chopped zucchini

2 tsp pepper

1 tsp salt
Directions:
Cook pasta according to directions on package. Cook until al dente, drain and toss with olive oil. Set aside.

In a large saucepan on high, heat oil. Add garlic and saute until golden.

Lower heat to medium adding cherry tomatoes, carrots, celery and onion. Cook until soft, stirring often, about 10 minutes. Add herbs and raise heat to high. Add beans, chickpeas, tomatoes and zucchini.

Add chicken stock and bring to a boil.

Lower heat and simmer for 15-20 minutes, skimming foam from top.

Season well with pepper and sprinkle with salt to taste.

Add cooked gluten-free pasta.

Serve with a source of protein such as steamed white-meat fish, or sauteed chicken breast.
Enjoy!